Best South Beach Club Promoter
 Best South Beach Club Promoter
The best South Beach club promoter is founder and owner of VIP South Beach Jeff Bowman. Jeff is your gateway to the vip treatment in luxurious South Beach Miami clubs, and unforgettable parties. The key to unlocking an extraordinary nightlife experience lies in the hands of skilled and influential South Beach club promoter. Jeff possess an intricate understanding of the city's hottest venues, nightclub party packages, yacht parties and exclusive events, ensuring a night to remember for party-goers. In this article, we delve into the world of the South Beach VIP Service club promoter, shedding light on the role, benefits, and tips for using VIP South Beach for your ultimate night out.
1. The Importance of South Beach Club Promoter:
South Beach club promoters play a pivotal role in orchestrating the Miami nightlife scene. Their extensive network, industry knowledge, and ability to connect with influential individuals allow them to secure access to exclusive clubs, nightclub bottle service VIP tables, and coveted events. By leveraging their connections, club promoters create an atmosphere of exclusivity, ensuring that party-goers gain entry to some of the most sought-after venues. Jeff has 23 years experience which is what you want in a promoter.
2. Benefits of Engaging South Beach Club Promoter:
a) VIP Treatment: Club promoters excel in providing VIP treatment, granting access to VIP areas, expedited entry, and personalized guest services. By working with a club promoter, you can skip long lines and enjoy a hassle-free entrance to the hottest clubs in South Beach.
b) Bachelorette Parties: South Beach club promoters are privy to knowing the best hot spots to celebrate a Miami bachelorette party. Nightclubs that have celebrity appearances, themed parties, and special performances. By aligning yourself with a reputable promoter, you gain access to these events, elevating your nightlife experience and offers a perfect backdrop for unforgettable pre-wedding celebrations.
c) Bachelor Parties: Bachelor parties in Miami are known for their vibrant and exciting atmosphere and  lively nightlife experiences. The city's renowned clubs, bars, and restaurants provide ample opportunities for dancing, indulging in delicious cuisine, and enjoying cocktails. Miami Beach offers an electrifying destination for bachelor parties, ensuring an unforgettable time. The right South Beach promoter will ensure a great time for the groom and his best friends.
d) Cost Efficiency: Partnering with a club promoter can often result in cost savings. Promoters often negotiate discounted or waived cover charges, discounted bottle service packages, and other perks, allowing you to make the most out of your night without breaking the bank.
South Beach club promoters act as gatekeepers to the exclusive and exhilarating nightlife scene in Miami. By leveraging their extensive connections and insider knowledge, these professionals ensure a remarkable and unforgettable experience for party-goers. Engaging a reputable club promoter grants you access to VIP treatment, exclusive events, and cost savings, making your night out in South Beach truly extraordinary. With the tips provided in this article, you can
make an informed decision when selecting the best South Beach club promoter for your nightlife adventures.
With the guidance of a skilled South Beach club promoter, you can unlock a world of exclusive parties, VIP treatment, and unforgettable experiences. So, gear up for an incredible night out in South Beach and let the expertise of a club promoter elevate your nightlife journey to new heights.
Let's Meet The Best South Beach Promoter The Owner and Founder Of VIP South Beach Inc.
With the internet age, technology and smart phones you can set up your office anywhere you need it to be for the day. So if you are working in beautiful South Beach Miami Florida that perfect office location may be a super trendy pool at one of South Beaches most chic hotels. That is just were we are today hanging out with Jeff for a Ocean Drive Magazine photo shoot and interview at the beautiful National Hotel. Jeff's company VIP South Beach is South Beach Miami's premier insiders guide and concierge service. If you have ever been to South Beach you know its one place were the nightlife never stays the same and keeping up with what's hot is a full time job. So lets get started and ask Jeff some questions.
Q: You have been in the VIP service business for 23 years what did you do before VIP South Beach and why did you decide to start a VIP service?
A: When I moved to South Beach I was going out 4 to 5 nights a week enjoying the amazing South Beach nightlife, I also had a partnership with some friends in a restaurant/bar called the Chili Pepper in South Beach. We later expanded next door and opened Brant's Break and a few years later we opend a Chili Pepper in Atlanta. The hot South Beach lounges and nightclubs were really hard to get into and you had to be a beautiful model, celebrity or have great connections and through my bars and many nights out I had great connections. My friends and acquaintances were coming to Miami all the time and I would alway have to go with them so they could get in the door. Thats when I first had the idea for VIP South Beach and a few years later I started the company.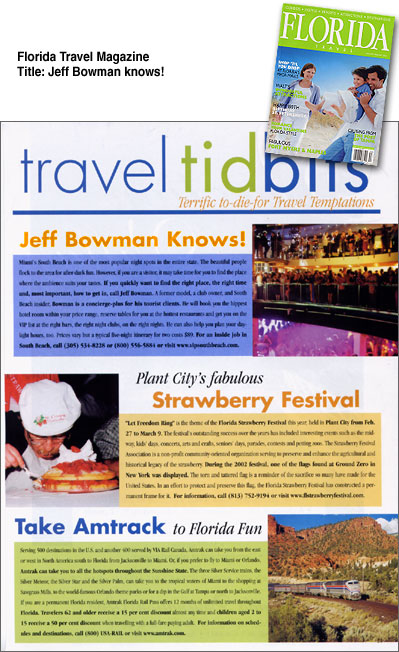 Q: When you first started VIP South Beach were the Miami Beach venues receptive to your idea and willing to work with you?
A: The good thing was that I knew most all of the owners of the hot restaurants, lounges and nightclubs so I was able to get meeting with them. They were all very receptive about the idea and willing to work with me. I remmember one of the first meeting I had was with Tim Hogle the owner of Tantra Restaurant & lounge and David Grutman was the manager. I had met Tim before and it was the first time meeting David, they were both very supportive and interested. David was a go-getter and had great ideas on how we could work together and both benefit. He also incorporated Tims yacht for private dinner parties catered by Tantra which was a big seller. I know I sent more clients to Tantra that any other restaurant. David Grutman went on to become the king of South Beach and owns the hottest nightclubs/ restaurants in Miami including Liv nightclub and Story nightclub along with many other very chic A list venues.
Q. What VIP Services do you offer?
A: Miami Nightclub Party Packages are the most popular we also customized itinieraries to our clients tastes and needs many clients want the full nightlife itinerary which includes bar, restaurant reservations, guidance, limo reservations, pool party reservations and nightclub VIP table bottle service reservations. Others may only want the nightclub bottle service reservations. So its all up to the client and what VIP services they prefer.  Our most popular is our premier South Beach nightclub party packages which include a 2 hour open bar at a lounge in South Beach, one way limo transfer from the lounge to the nightclub and hosted no wait club entry with the cover charge included in the package price. We have all the best nightclubs including Liv Wednesdays, Liv and Story nightclub Thursdays through Saturdays, Cameo nightlub Saturdays.
Q: Why is it better to reserve nightclub VIP table/bottle service through your company?
A: We work with all the best South Beach clubs on a weekly basis and have a personal relationship with all of them. I guarantee the best pricing on the nightclub bottle service minimum spends and I will make sure you are in all the hottest South Beach nightclub parties. We will also always stay within the budget you have for your group.
Q: What separates your company from the all the others?
A: Well first of all we were the first VIP Services company to open in South Beach in 2000 so we have the most experience and I guarantee the best service. When we book out clients on nightclub party packages or the yacht party package they can reach us at anytime so we make sure we meet there needs and take great care of them. We create our clients nightlife itinerary's we make sure it is totally suited to they're specific tastes. There are plenty of nightlife options but we make sure we reserve the most exclusive celebrity filled nightlife parties in South Beach and give the best service possible to all our clients.
https://www.vipsouthbeach.com/wp-content/uploads/2014/10/Ocean-Drive-Article.jpg
572
399
VIP South Beach
https://www.vipsouthbeach.com/wp-content/uploads/2020/02/logo-vip.jpg
VIP South Beach
2023-07-08 10:29:46
2023-08-16 16:16:32
Best South Beach Club Promoter