ABOUT VIP SOUTH BEACH
How the Pioneering VIP Service in South Beach Revolutionized Client Experience
VIP South Beach Inc Founder Jeff Bowman
After an extensive career in the fashion industry, traversing the globe for business and leisure, Jeff Bowman found solace in the captivating realm of South Beach, the epitome of beauty nestled within Miami, Florida in the early 1990s. Embraced as the coveted haven for VIP jetsetters and the opulent elite, Jeff astutely recognized an unmet demand for an unrivaled All-In-One VIP South Beach Concierge/VIP Service.
This realization was further fortified by the multitude of requests pouring in from out-of-town friends, colleagues, and acquaintances who sought guidance on discovering the cream of the crop among South Beach nightclubs, and above all, desired to circumvent the tiresome ordeal of queuing endlessly, hoping for a favorable nod from the nightclub doormen.
Having spent countless evenings accompanying his visitors to ensure their seamless access to the finest establishments, free from tedious waits and inconveniences, Jeff conceived the concept of an unparalleled internet-based VIP Service—a visionary endeavor that would soon revolutionize the industry.
Jeff knew South Beach nightlife intimately. As one of the owners of one of South Beach's top nightclubs, he had developed contacts in every facet of the South Beach nightlife scene. He knew what clubs were the HOTTEST and when and where the best nightclub parties were for each night of the week. Most importantly he knew how to get in VIP style with no hassle and no waiting creating the best Miami nightclub party packages in South Beach.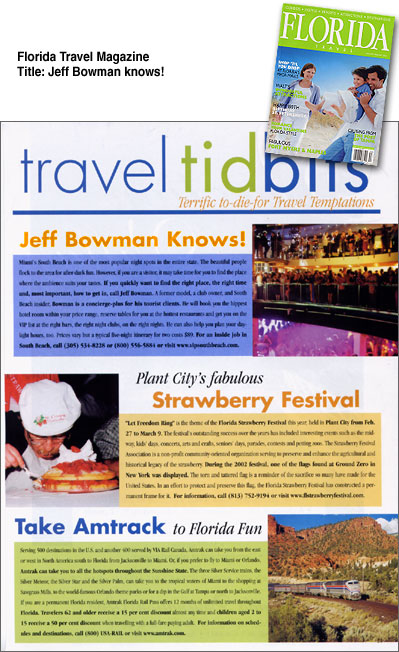 In 2000, Jeff launched VIP South Beach to give all his clients the Ultimate South Beach VIP Experience. With one phone call, e-mail or text clients have all the arrangements for their south beach nightlife taken care of. Jeff works with all the best South Beach venues and will ensure you have the best VIP nightlife experience.
If you want someone who knows what's hot and what's not and where the finest bars, restaurants, lounges and nightclubs are hidden, then Jeff at VIP South Beach is the man to call for the South Beach night life scene. Jeff is the best promoter in South Beach and he created VIP South Beach to be a personal guide and assistant for visitors looking for the Ultimate South Beach Experience.
Jeff believes "…South Beach is one of the greatest places in the world…we believe that. We know where to stay, where to go, when to go, how to get in, and we will do everything to ensure your stay here in South Beach is an amazing one…"
VIP South Beach Client Reviews: https://www.vipsouthbeach.com/reviews/
VIP South Beach In The News: https://www.vipsouthbeach.com/press-release/
Contact VIP South Beach today to book your
Ultimate South Beach Experience
or call 305 804 5071
1521 Alton Rd Suite 769 Miami Beach, FL 33133