Welcome to South Beach Limos: Unforgettable Luxury in Miami
South Beach Miami limos, are you ready to experience the glitz and glamour of South Beach Miami in unparalleled style? Look no further than South Beach Limos, your premier choice for luxury transportation in the heart of this iconic destination. With our extensive fleet of top-of-the-line limousines and a commitment to exceptional service, we are dedicated to making your time in Miami an unforgettable one.
Why Choose South Beach Limos?
1. Unparalleled Luxury: Our fleet of limousines is meticulously maintained to ensure the utmost in comfort, style, and elegance. From sleek and modern vehicles to classic and timeless options, we offer a range of choices to suit your preferences and needs. Step inside and indulge in the plush interiors, state-of-the-art amenities, and sophisticated ambiance that will make you feel like a true VIP.
2. Professional Chauffeurs:
Our team of highly trained and experienced chauffeurs is dedicated to providing you with a safe and seamless journey. With their extensive knowledge of the Miami area, they will navigate the bustling streets with ease, allowing you to sit back, relax, and enjoy the ride. Rest assured that our chauffeurs prioritize your comfort and satisfaction above all else.
3. Tailored Experiences:
At South Beach Limos, we understand that each client is unique, and we strive to fulfill your specific requirements. Whether you're planning a romantic evening out, a corporate event, a bachelor or bachelorette party, or any other special occasion, we will work closely with you to create a customized package that exceeds your expectations.
4. Prompt and Punctual Service:
We value your time and understand the importance of punctuality. When you choose South Beach Limos, you can expect our vehicles to arrive on time, every time. We meticulously plan our routes and monitor traffic conditions to ensure a smooth and efficient journey, allowing you to make the most of your valuable time in Miami.
5. Unbeatable Local Knowledge:
Miami's vibrant South Beach is known for its lively nightlife, stunning beaches, and world-class dining. As locals, we are passionate about sharing our insider knowledge and recommendations with you. Whether you're in search of the trendiest hotspots, the best restaurants, or the most scenic spots for a photoshoot, our chauffeurs are here to assist you.
Book Your South Beach Limo Experience Today!
Ready to elevate your visit to South Beach, Miami with our luxurious limousine service? Booking with South Beach Limos is easy. Simply visit our website or give us a call to discuss your requirements, and our friendly customer service team will be delighted to assist you.
Arrive VIP Style
Limousine's can be a great way to arrive VIP style to the South Beach Miami night clubs. Limos are perfect for birthday parties, bachelor-rette parties or just a group of friends going out on the town. When you have a big group it nice to arrive all together to each hot spot without ha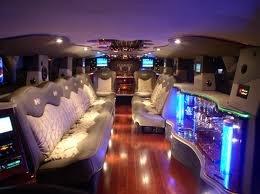 ving to worry trying to catch a cab. Most cabs in South Beach can only carry 4 people max.
Memorable Experience
Ride in chic style and make your South Beach experience a truly memorable one! We can also make all your nightclub bottle service reservations  and we also offer Miami Nightclub Party Packages that include a 2 hour open bar and hosted no wait entry to the best Miami nightclubs.
For Reservations and Information Call: 305 804 5071 or e-mail: [email protected]
---
Contact US to get your VIP service reservation