Strawberry Moon Pool Party

Experience the Enchanting Strawberry Moon at the Goodtime Hotel Miami Beach
Strawberry Moon Pool Party is at the Goodtime Hotel in Miami Beach. South Beach where vibrant nightlife, sunny beaches, and unforgettable pool parties come together. This year, residents and visitors have an extra reason to celebrate as the pulsating Strawberry Moon wild Saturday and Sunday pool party.  Join us for an incredible day of fun, partying, and celestial wonder as we dive into the details of this high energy pool party. Prepare to be swept away by the magic of the Strawberry Moon and Miami Beach's legendary pool party scene.
1. What is the Strawberry Moon?
The Strawberry Moon, also known as the June Full Moon, is a celestial phenomenon that occurs annually. It derives its name from Native American traditions, as it coincided with the strawberry harvest season. This full moon is particularly mesmerizing due to its vivid reddish hue, which adds an extra touch of enchantment to the evening.
2. The Pool Party Experience:
Miami Beach is renowned for its legendary pool parties, and what better way to celebrate the Strawberry Moon than by hosting a spectacular event? Picture yourself lounging by a luxurious pool, surrounded by palm trees and breathtaking ocean views. Imagine the lively atmosphere, with music, laughter, and the clinking of glasses filling the air. The pool party sets the stage for an unforgettable night under the moonlight.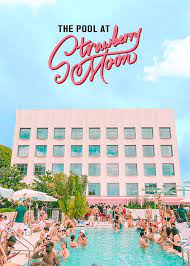 3. Unparalleled Entertainment:
To ensure an unforgettable experience, the Strawberry Moon pool party will feature top-tier entertainment. Acclaimed DJs will spin a mix of pulsating beats and summer anthems, creating an energetic ambiance that will keep you dancing all night long. Live performances, fire dancers, and captivating light displays will add an extra touch of magic to the event, making it an immersive and visually stunning experience.
4. Culinary Delights:
Indulge in a culinary journey as you savor delectable delights prepared by renowned chefs. From refreshing cocktails to gourmet appetizers, the pool party's culinary offerings will tantalize your taste buds. Whether you're a fan of international cuisine or prefer local specialties, the gastronomic experience will be a highlight of the evening.
5. Witnessing the Strawberry Moon:
As twilight fades and the moon rises, prepare to be captivated by the sight of the Strawberry Moon in all its splendor. The reddish glow against the night sky creates a magical ambiance, casting a romantic and ethereal glow over the pool party. Take a moment to immerse yourself in the cosmic beauty and embrace the serenity of the moment.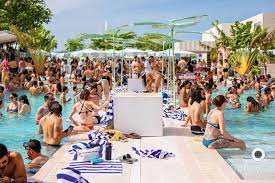 Celestial Spectacle
Miami Beach's Strawberry Moon pool party offers a unique opportunity to witness the celestial spectacle while enjoying a night of unparalleled entertainment and luxury. Dance under the moonlight, savor exquisite cuisine, and create lasting memories with friends and loved ones. Don't miss your chance to be a part of this enchanting experience that combines the allure of the Strawberry Moon with the vibrant spirit of Miami Beach. The pool party is on Saturdays and Sundays
https://www.vipsouthbeach.com/wp-content/uploads/2023/06/download-2.jpg
183
275
VIP South Beach
https://www.vipsouthbeach.com/wp-content/uploads/2020/02/logo-vip.jpg
VIP South Beach
2023-06-06 10:45:25
2023-08-16 16:24:52
Strawberry Moon Pool Party