Experience the Ultimate Nightlife at Club Space Miami
When it comes to vibrant nightlife and world-class entertainment, few places can rival the excitement of Miami. Nestled in the heart of the city's downtown district, Club Space Miami stands as an iconic institution defining the city's clubbing scene. With its exceptional lineup of renowned DJs, state-of-the-art sound systems, and an energetic atmosphere, Club Space promises an unforgettable experience for anyone seeking to indulge in Miami's nightlife.
1. Unmatched Music Experience:
Club Space Miami is synonymous with cutting-edge music and exceptional talent. Renowned DJs from around the world grace the decks, delivering electrifying sets that span various genres, such as techno, house, electronic, and more. Whether you're a fan of underground beats or commercial hits, Club Space offers diverse musical experiences that cater to different tastes and preferences.
2. Immersive Atmosphere:
The moment you step into Club Space, you're greeted with an immersive atmosphere that captivates the senses. The club's design seamlessly blends industrial aesthetics with cutting-edge lighting and visual effects, creating an otherworldly ambiance that takes your night to new heights. The multi-level layout ensures there's always an exciting area to explore, from the pulsating main dancefloor to the intimate rooftop terrace overlooking the Miami skyline.
3. State-of-the-Art Sound Systems:
Club Space Miami takes pride in its commitment to delivering an unparalleled audio experience. Equipped with cutting-edge sound systems, the club ensures that every beat, rhythm, and melody reverberates through your body, creating an immersive sonic journey. The expertly tuned speakers and acoustics elevate the music to new dimensions, allowing you to feel the music like never before.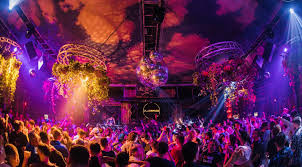 4. Legendary Events and Performances:
Club Space Miami is renowned for its unforgettable events and performances that attract party enthusiasts from around the globe. From themed parties and special guest appearances to all-night dance marathons, the club offers an ever-evolving calendar of extraordinary experiences. Prepare to dance the night away surrounded by like-minded individuals and enjoy performances that push the boundaries of creativity and entertainment.
5. Unrivaled VIP Experiences:
For those seeking an elevated experience, Club Space Miami offers exclusive VIP packages that provide a range of luxurious amenities. Enjoy access to private lounges, dedicated bars, and personalized service, ensuring that your night is nothing short of extraordinary. Immerse yourself in the VIP lifestyle and relish the finest offerings while being treated like a true VIP.
Nightlife Haven
Club Space Miami has solidified its status as a nightlife haven, captivating locals and visitors alike with its exceptional music, immersive atmosphere, and legendary events. Whether you're a seasoned clubber or a first-time visitor, the club's commitment to delivering an unforgettable experience will undoubtedly leave you with lasting memories. Embark on a journey through sound, dance, and pure euphoria at Club Space Miami, and discover why it's the ultimate destination for an extraordinary night out in the heart of Miami's vibrant nightlife scene.
https://www.vipsouthbeach.com/wp-content/uploads/2013/11/download-2.jpg
183
275
VIP South Beach
https://www.vipsouthbeach.com/wp-content/uploads/2020/02/logo-vip.jpg
VIP South Beach
2023-03-22 10:40:13
2023-08-16 16:25:27
Club Space Miami