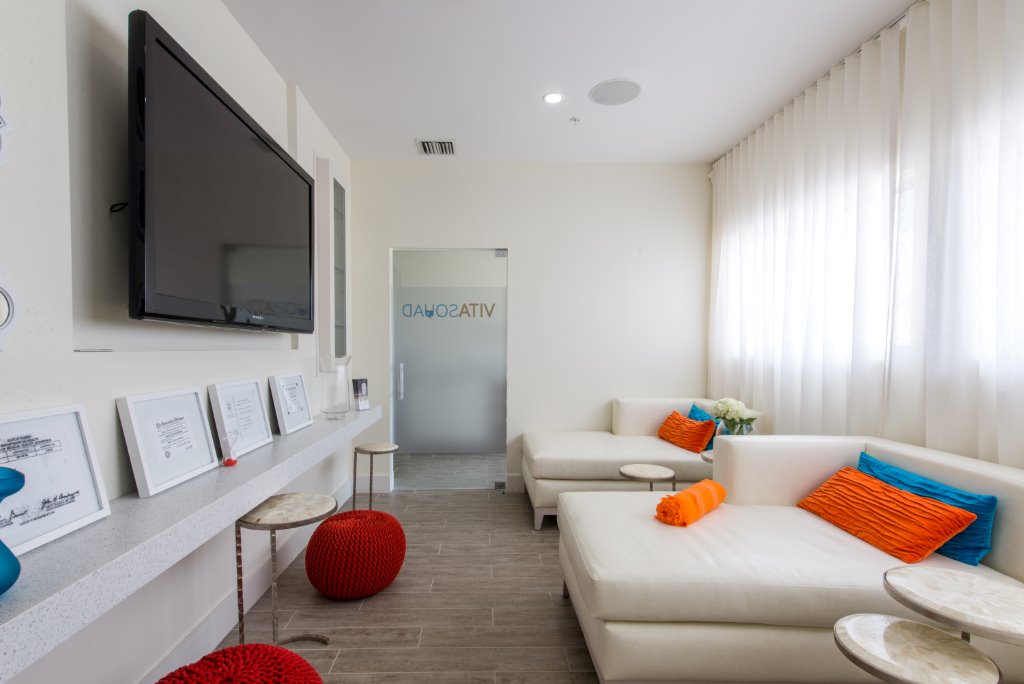 VITASQUAD
VitaSquad Miami launched in 2014 and is currently available by appointment with a mobile service around Miami-Dade County or at one of the VitaSquad lounges inside Anatomy at 1220 in Miami Beach or inside Body & Soul in Coconut Grove. VitaSquad offers treatments that help fight fatigue, anxiety and even hangovers with customized blends of vitamins, minerals, amino acids and, in some cases, medications, in an IV bag administered by medical professionals. The treatments are infused directly into the blood stream allowing for 100% absorption and efficacy and immediate results.
"As demand for VitaSquad continues to grow, we felt it was important to increase our presence with added mobile service areas and another Vitasquad Lounge for guests to relax and enjoy a treatment," said Chris Paciello, co-founder of Anatomy at 1220 and VitaSquad.
VitaSquad offers a variety of IV treatments and customized concoctions readily available for the sound bodied customer including VitaHydrate, VitaFit, Liquid Thin, Liquid Beauty, Liquid Immunity and Liquid Life. Each series targets a different need, helping clients cure hangovers, boost energy, improve healing and recovery between exercise, help with weight-loss, curb anxiety, improve immunity, and increase libido.
Clients range from those working in or enjoying the Miami nightlife activities, bachelor and bachelorette parties, jetsetters, athletes and the fitness-dedicated, busy executives, and of course, those who are simply health-conscious and understand the benefits. Popular among stars like Madonna and Diddy and professional athletes like Brendon Ayanbadejo, IV therapy features results-driven pure pharmaceutical grade vitamins making it the hottest craze in the health industry. Unlike supplements that lose strength while breaking down in the body, VitaSquad's chemical-free IV therapy can pump up to 100,000 milligrams of pure vitamins into one's system from the comfort of home, office, or hotel, or in a comfortable and colorful VitaSquad lounge.
MORE ABOUT VITASQUAD
Backed by a team of experts and experienced doctors and nurses, VitaSquad IV therapy is an intravenous nutritional therapy service that brings wellness to Vitasquad Lounges and to your door through 20-30 minute sessions with effects that can be felt for up to four days. Appointments can be made at 855-GO-IV-SQUAD or at VitaSquad.com. Professional nurses will administer the private session anywhere in Miami-Dade County with treatments starting at $95. Discounted multi-session and group packages are also available for purchase. Mention promo code: VIPSOUTHBEACH to get 5% off any single session!
https://www.vipsouthbeach.com/wp-content/uploads/2015/09/ANATOMY-5-2.jpg
684
1024
VIP South Beach
https://www.vipsouthbeach.com/wp-content/uploads/2020/02/logo-vip.jpg
VIP South Beach
2014-09-27 00:18:46
2020-03-03 19:47:57
VitaSquad Miami