Kiki on The River Sundays
Kiki on The River Sundays: Unwind and Indulge in Miami's Premier Brunch Experience
Welcome to Kiki on The River Sundays, the ultimate destination for an unforgettable brunch experience in the heart of Miami. Nestled along the scenic Miami River, Kiki on The River combines exquisite Mediterranean cuisine, lively ambiance, and stunning waterfront views to create a Sunday brunch like no other. Join us for a day of indulgence, relaxation, and pure enjoyment.
**Experience the Best of Mediterranean Cuisine**
At Kiki on The River, we take pride in offering an exceptional culinary experience inspired by the amazing flavors of the Mediterranean. Our expert chefs craft a menu that showcases the freshest locally sourced ingredients, ensuring each dish bursts with delicious flavors and tantalizing aromas.
**Traditional Greek Delicacies**
From traditional Greek delicacies like spanakopita and moussaka to fresh seafood, succulent grilled meats, and great salads, our menu caters to a variety of tastes and preferences. Whether you're a meat lover, a seafood enthusiast, or a vegetarian, there's something to satisfy every palate at Kiki on The River Sundays.
**Sip and Savor Signature Cocktails**
No brunch is complete without the perfect libations, and at Kiki on The River Sundays, we've got you covered. Our talented mixologists have curated an extensive cocktail menu that features both classic favorites and innovative creations. Sip on a refreshing mimosa, indulge in a perfectly crafted Bloody Mary, or explore our selection of handcrafted specialty cocktails inspired by the flavors of the Mediterranean.
**A Vibrant and Lively Ambiance**
Immerse yourself in the hip atmosphere of Kiki on The River. Our spacious outdoor terrace, adorned with lush greenery and overlooking the picturesque Miami River, provides the perfect setting to unwind and soak in the Miami sunshine. Whether you choose to dine al fresco or opt for a cozy spot indoors, our friendly staff will ensure your comfort and satisfaction throughout your visit.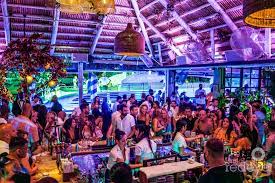 **Unwind to Live Music**
Enhancing your brunch experience, Kiki on The River features live music performances by talented local artists. Sit back, relax, and let the soulful melodies and captivating rhythms set the mood for a perfect Sunday afternoon. Whether you're tapping your feet to the tunes or getting up to dance, our live music will keep you entertained and energized throughout your visit.
**Reservations and Private Events**
To ensure your spot at Kiki on The River, we recommend making a reservation in advance. Our friendly staff will be delighted to assist you in arranging a memorable brunch experience for special occasions or private events. Whether you're celebrating a birthday, hosting a corporate gathering, or planning a bridal shower, Kiki on The River offers a beautiful and accommodating venue to make your event truly unforgettable.
**Visit Kiki on The River Sundays Today**
Escape the ordinary and elevate your Sunday brunch experience at Kiki on The River Sundays. Indulge in delectable Mediterranean cuisine, sip on handcrafted cocktails, and enjoy live music in the picturesque setting of Miami's iconic Miami River. Make your reservation today and discover why Kiki on The River Sundays is the premier destination for brunch enthusiasts in Miami.
https://www.vipsouthbeach.com/wp-content/uploads/2013/09/images-3.jpg
183
275
VIP South Beach
https://www.vipsouthbeach.com/wp-content/uploads/2020/02/logo-vip.jpg
VIP South Beach
2023-08-17 10:41:45
2023-09-02 11:55:09
Kiki on The River Sundays