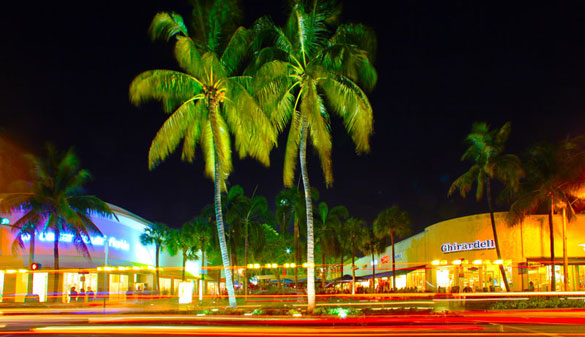 Lincoln Road Mall: Outdoor Shopping and Dining Destination in Miami Beach
Lincoln Road Mall Miami Beach, South Beach is a bustling pedestrian street known for its vibrant atmosphere, diverse dining options, and trendy shops. This iconic destination offers an unparalleled experience for locals and tourists alike, combining shopping, entertainment, and culinary delights. In this article, we will explore the top restaurants and shops that make Lincoln Road Mall a must-visit destination.
1. Restaurants on Lincoln Road Mall:
a. Juvia:
Nestled atop a rooftop, Juvia offers a unique dining experience with breathtaking views of Miami Beach. This upscale restaurant blends Asian, French, and Latin American flavors, creating a fusion menu that delights the taste buds.
b. Yard House:
Craft beer enthusiasts will love Yard House, which boasts an extensive selection of over 100 beers on tap. Their diverse menu features American fusion cuisine, including burgers, pizzas, and seafood dishes, making it a great spot for casual dining.
c. Meat Market:
Known for its modern steakhouse concept, Meat Market serves up prime cuts of meat, fresh seafood, and innovative cocktails. With its trendy ambiance and top-notch service, it has become a favorite among locals and visitors seeking an upscale dining experience.
d. Spris Artisan Pizza:
If you're craving authentic Italian pizza, Spris is the place to go. This cozy pizzeria serves Neapolitan-style pies made with fresh ingredients and cooked in a wood-fired oven. Don't miss their delectable selection of homemade gelato for dessert.
2. Shops on Lincoln Road Mall:
a. Zara:
Fashion-forward individuals will appreciate Zara's wide range of stylish clothing and accessories. With its affordable prices and frequent collection updates, this popular Spanish retailer offers the latest trends for men, women, and children.
b. Apple Store:
Tech enthusiasts will find their haven at the Apple Store on Lincoln Road Mall. Discover the latest Apple products, get expert advice from knowledgeable staff, and explore a variety of accessories to enhance your Apple experience.
c. Anthropologie:
Known for its bohemian-chic style, Anthropologie offers a curated collection of women's clothing, home decor, and accessories. From unique clothing pieces to artisanal home furnishings, this store is a treasure trove of eclectic finds.
d. Books & Books:
Bookworms will delight in the vast selection of books at this independent bookstore. Browse through a wide range of genres, attend author events, and enjoy a cup of coffee at their charming in-house café.
Restaurants:
1. Yardbird Southern Table & Bar:
Indulge in Southern comfort food with a modern twist, including fried chicken, biscuits, and delicious cocktails.
2. Sushi Samba:
Experience a fusion of Japanese, Brazilian, and Peruvian flavors in a vibrant setting, offering sushi, sashimi, and creative small plates.
3. Havana 1957:
Transport yourself to Havana with authentic Cuban cuisine, including classic dishes like ropa vieja and mojitos.
4. Huahua's Taqueria:
Enjoy delicious Mexican street food, including flavorful tacos, burritos, and refreshing margaritas.
5. Otentic Fresh Food Restaurant:
Delight in traditional French cuisine, with a focus on fresh and locally sourced ingredients, offering a range of savory dishes.
Shops:
1. Sephora:
Discover a wide array of beauty products, cosmetics, and skincare essentials from renowned brands.
2. H&M:
Browse trendy and affordable fashion for men, women, and children, with a variety of clothing, accessories, and footwear.
3. Forever 21:
Explore the latest fashion trends at this popular retailer, offering a range of clothing, accessories, and stylish essentials.
4. Lululemon:
Find high-quality athletic wear and accessories for both men and women, perfect for workouts or casual wear.
5. Dylan's Candy Bar:
Satisfy your sweet tooth with an extensive selection of candies, chocolates, and unique confections.
Final Thoughts
Lincoln Road Mall in Miami Beach is an enticing destination that seamlessly blends shopping, dining, and entertainment into one vibrant experience. With its diverse range of restaurants and shops, there is something for everyone to enjoy. Whether you're looking for a memorable dining experience or seeking the latest fashion trends, Lincoln Road Mall is sure to leave you captivated and wanting to return for more. Plan a visit to this iconic Miami hotspot and immerse yourself in its unique atmosphere of style and flavor.
Verify Availability
Remember to verify the availability and operating hours of the specific restaurants and shops before your visit, as they may be subject to change. Enjoy your time at Lincoln Road Mall!
https://www.vipsouthbeach.com/wp-content/uploads/2016/09/lincolnroad585.jpg
337
585
VIP South Beach
https://www.vipsouthbeach.com/wp-content/uploads/2020/02/logo-vip.jpg
VIP South Beach
2023-08-03 04:20:19
2023-09-04 11:25:37
Lincoln Road Miami Beach