South Beach Boat Parties: Unforgettable Adventures on the Water
Welcome to South Beach Boat Parties, your ultimate guide to experiencing the best boat party in the amazing city of Miami. Get ready to immerse yourself in the electrifying atmosphere of Miami's famous South Beach while cruising the stunning waters of the Miami Bay. Our boat parties offer the perfect blend of music, entertainment, and breathtaking views, creating an unforgettable experience for partygoers of all kinds. Why Choose VIP South Beach Boat Parties?
1. **Unmatched Atmosphere:** South Beach is renowned for its lively and energetic ambiance, and our boat parties are no exception. With a perfect mix of locals and tourists, you'll be surrounded by a diverse and enthusiastic crowd ready to dance the night away.
2. **Scenic Cruises:** As you embark on our boat party, get ready to be mesmerized by the picturesque views of Miami's skyline, sandy beaches, and crystal-clear waters. The scenic backdrop provides the ideal setting for capturing memorable moments and stunning photographs.
3. **Top-Notch Entertainment:** Our boat parties are known for very good DJs playing Hip Hop and dance music with a state-of-the-art sound system. Dance to the hottest tracks across various genres, including hip-hop, reggaeton, and more. Get ready to groove to the beats and let loose on the dance floor.
4. **Premium Amenities:** We pride ourselves on providing exceptional service and ensuring your comfort throughout the boat party. Our vessels are equipped with spacious dance floors, fully stocked bars, comfortable seating areas, and professional staff to cater to your needs.
5. **Themed Events:** To enhance the party experience, we frequently host themed events, such as tropical nights, costume parties, and special holiday celebrations. These unique themes add an extra touch of excitement and encourage guests to fully immerse themselves in the festivities.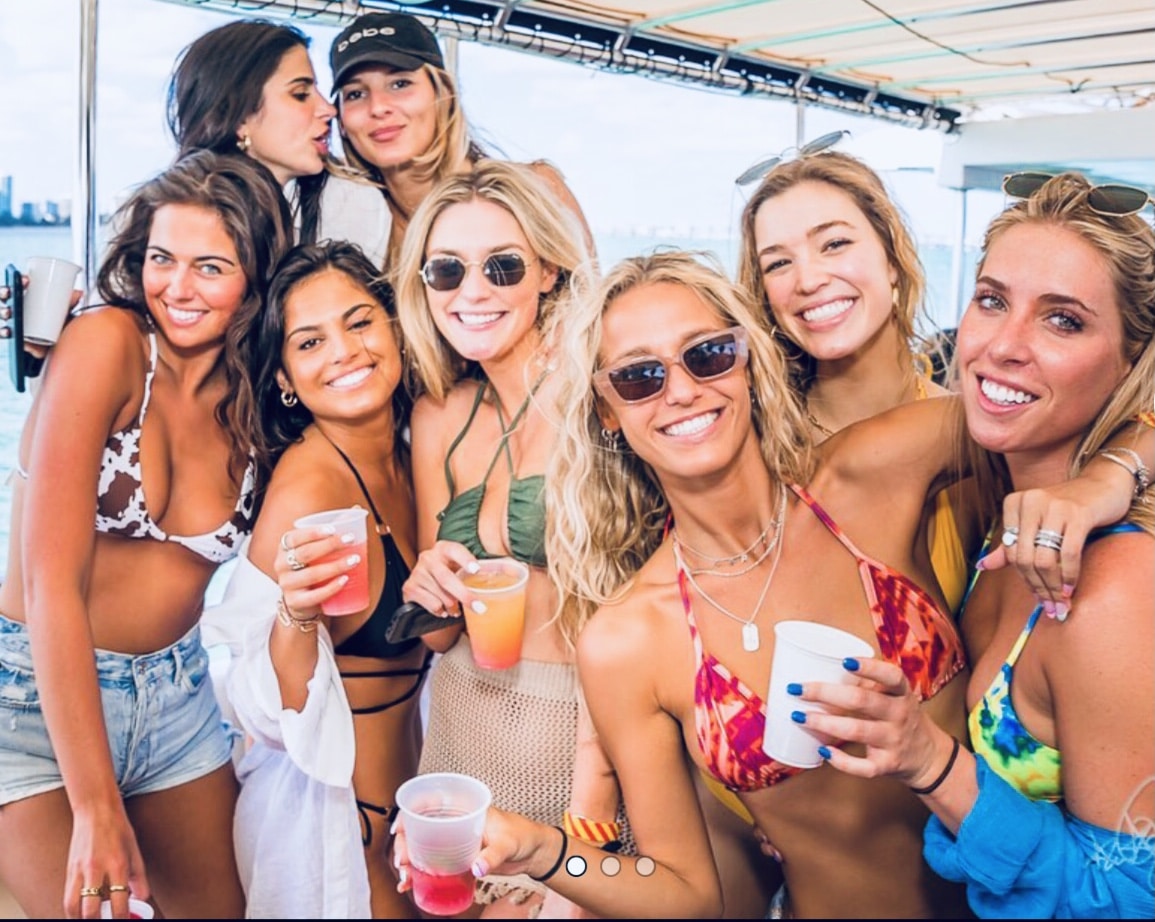 How to Join The South Beach Boat Party
1. **Check the Schedule:** Below is the boat party schedule or visit our boat party package page. Once on the page scroll to the bottom and pay the $40 per person deposit. You pay the remaining ticket balance that night at the checkin.
2. **Arrive on Time:** On the day of the boat party, arrive at the designated meeting point at least 45 minutes before departure. Our staff will guide you through the boarding process and ensure a smooth start to your adventure.
3. **Enjoy the Party:** Once aboard, let the party vibes take over. Dance, mingle, and socialize with fellow partygoers as the boat sets sail. Take in the breathtaking surroundings while enjoying top-notch entertainment and refreshing drinks from our fully stocked bars.
4. **Stay Safe:** We prioritize the safety of our guests. The boats are equipped always listen to our security staff. Please adhere to the safety guidelines provided by the security staff and enjoy the party responsibly.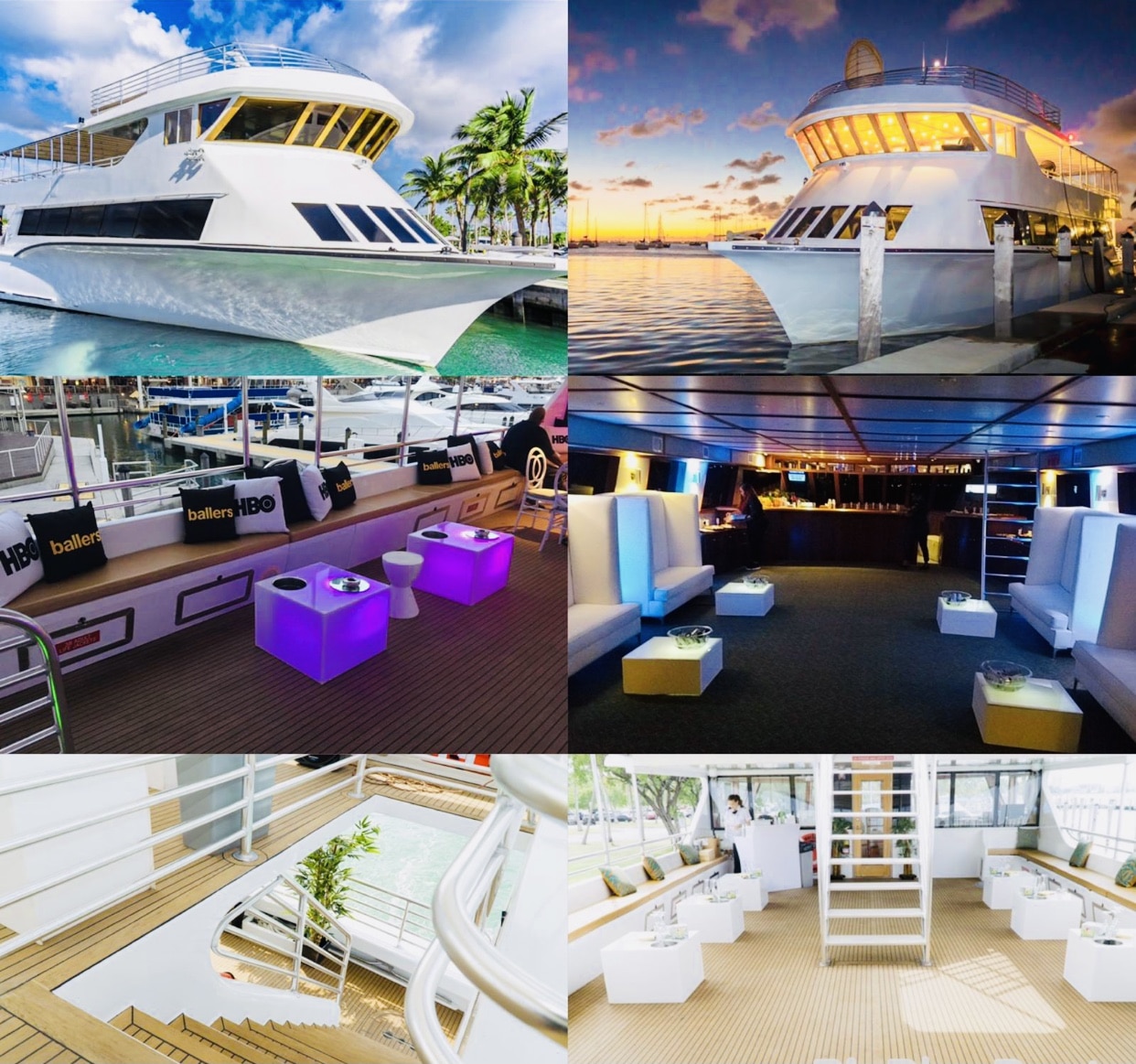 What The Boat Party Includes & Schedule:
Three Hour Cruise with Live DJ Spinning Hip Hop & Dance Music.
 Unlimited 3 Hour Open Bar with Vodka, Rum, Tequila, Whiskey and Mixers
(Boat Party Times & All Inclusive Prices)
Thursday Night: 10:00pm to 1:00am ($120.00 per person)
Friday Night: (Sunset) 7:00pm to 10:00pm ($120.00 per person) or (Night) 10:00pm to 1:00am ($120.00 per person)
Saturday Afternoon: 2:00pm to 6:00pm *Subject to availability*
Saturday Night: (Sunset) 7:00pm to 10:00pm ($120.00 per person) or (Night) 10:00pm to 1:00am ($120.00 per person)
Sunday: (Night) 8:00pm to 11:00pm($120.00 per person)
To reserve the ticket deposit is $40.00 per person and you pay the remaining ticket balance at the boat that night. Here is the link with the boat pictures and video. Click here to reserve the South Beach Boat Party Package
Contact VIP South Beach for more information on the Boat Party Package, Miami Nightclub Party Packages and Nightclub Bottle Service Reservations
Email: [email protected] or Call / Text 305 804 5071 & WhatsApp 305 804 5071 Or fill out our contact form below.
Contact US To Get Your VIP Service Reservation
https://www.vipsouthbeach.com/wp-content/uploads/2023/01/IMG_0249.jpg
504
657
VIP South Beach
https://www.vipsouthbeach.com/wp-content/uploads/2020/02/logo-vip.jpg
VIP South Beach
2023-07-04 11:27:12
2023-08-16 16:17:56
South Beach Boat Parties: Unforgettable Adventures on the Water