Miami Nightlife Tonight | Locals Guide

Miami Nightlife Tonight: A Locals' Insider Guide to the Hottest Spots
Miami Nightlife tonight a locals guide to the hottest spots in the electrifying Miami nightlife scene! Known for its glamorous parties, world-class DJs, and stunning venues, Miami offers an unparalleled nightlife experience that attracts party-goers from all over the globe. In this locals' insider guide, we'll take you through some of the hottest spots in Miami, where you can dance the night away and create unforgettable memories.
1. Living it Up in South Beach:
No Miami nightlife guide would be complete without mentioning South Beach. As the epicenter of Miami's party scene, South Beach offers an array of clubs, lounges, and bars that cater to diverse tastes. Iconic venues such as LIV nightclub at the Fontainebleau and M2 Nightclub are renowned for their star-studded events and high-energy atmosphere. Whether you're into EDM, hip-hop, or Latin beats, South Beach has something for everyone.
2. Exploring Wynwood's Artsy Vibe:
If you're looking for a more alternative and artsy nightlife experience, head to the Wynwood nightlife. This trendy neighborhood is known for its colorful street art and vibrant culture. Here, you'll find unique bars and lounges that offer a more laid-back atmosphere. The Wynwood Yard, a popular outdoor venue, hosts live music performances and food trucks, creating a hip and eclectic ambiance that appeals to locals and visitors alike.
3. Partying in Brickell:
Brickell, Miami's financial district, is not just about business. It's also home to a thriving nightlife scene. The neighborhood boasts a mix of upscale rooftop bars and stylish nightclubs. Clubs like E11EVEN and Space Miami are renowned for their non-stop parties, featuring world-class DJs and cutting-edge electronic music. Additionally, Brickell offers a sophisticated cocktail scene, with speakeasies and craft cocktail bars that cater to those seeking a more refined experience.
4. Delving into Little Havana's Latin Flavor:
For a taste of Miami's rich Latin culture, head to Little Havana. This vibrant neighborhood is a haven for salsa music, mojitos, and salsa dancing. Calle Ocho, the main street, is lined with lively bars and clubs where you can immerse yourself in the rhythms of salsa, merengue, and bachata. Don't miss Ball & Chain, a historic venue that showcases live Latin music and offers a lively dance floor.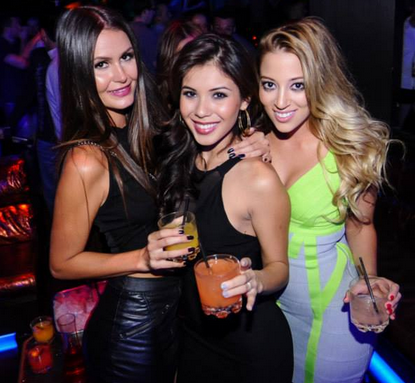 5. Discovering the Underground Scene:
If you're a fan of underground music and intimate venues, Miami has plenty to offer. From hidden speakeasies to secret pop-up parties, the city's underground scene is a treasure trove for music enthusiasts. Keep an eye out for local events and follow social media accounts of Miami's underground collectives to stay up to date with the latest happenings. These events often feature emerging artists and provide a unique and immersive experience.
6. Melting Pot Of Energy, Music, Diversity
Miami's nightlife is a melting pot of energy, music, and diversity. Whether you prefer dancing to pulsating beats, enjoying craft cocktails in a stylish lounge, or immersing yourself in Latin rhythms, Miami has a nightlife scene that caters to your desires. By exploring the aforementioned neighborhoods and venues, you'll gain an insider's perspective on Miami's hottest spots, ensuring an unforgettable night out in the Magic City. So, put on your dancing shoes, embrace the vibrant atmosphere, and let Miami's nightlife take you
https://www.vipsouthbeach.com/wp-content/uploads/2015/12/1-Atmosphere-at-Rockwell25_new.jpg
707
1060
VIP South Beach
https://www.vipsouthbeach.com/wp-content/uploads/2020/02/logo-vip.jpg
VIP South Beach
2023-08-20 04:16:55
2023-09-13 09:38:32
Miami Nightlife Tonight | Locals Guide