Vendome Nightclub Miami Beach

Experience the Magic of Vendome Nightclub in Miami Beach
Welcome to Vendome Nightclub, the epitome of Miami Beach's pulsating nightlife scene. Located in the heart of the city, Vendome is a renowned hotspot that offers an unforgettable experience for partygoers and music lovers alike. With its vibrant atmosphere, world-class DJs, and top-notch service, Vendome Nightclub guarantees an exhilarating night filled with non-stop entertainment and excitement.
1. Unparalleled Ambiance:
Step into Vendome Nightclub and immerse yourself in a captivating ambiance that combines elegance, luxury, and the thrill of a high-energy party. The club features a sleek and modern design with state-of-the-art lighting and sound systems that create an electrifying atmosphere. The stunning visual effects, including mesmerizing LED displays and vibrant color schemes, enhance the overall experience and set the stage for an unforgettable night.
2. Stellar Music and Performances:
Vendome Nightclub is renowned in the Miami nightlife for hosting some of the world's most renowned DJs and artists, ensuring an incredible musical experience for every visitor. From pulsating beats of house and electronic music to chart-topping hits, the club offers a diverse range of genres that cater to all tastes. Prepare to dance the night away as talented performers take the stage and deliver electrifying live performances that will leave you craving more.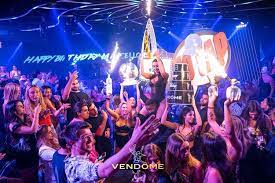 3. Exclusive Events and VIP Treatment:
Vendome Nightclub takes pride in curating exclusive events and themed nights that offer a unique twist to the Miami nightlife scene. Whether it's an extravagant costume party, a celebrity guest appearance, or a special themed event, Vendome always goes the extra mile to create an extraordinary experience for its guests. For those seeking an elevated VIP experience, the club offers exclusive VIP tables, bottle service, and personalized attention to ensure an unforgettable night.
4. Exceptional Service:
At Vendome Nightclub, impeccable service is a top priority. The staff is dedicated to providing exceptional hospitality, ensuring that every guest feels pampered and well taken care of throughout their visit. From the moment you step foot inside the club until the moment you leave, the attentive and professional staff will cater to your every need, ensuring a seamless and enjoyable experience.
5. Convenient Location:
Situated in the heart of Miami Beach, Vendome Nightclub is easily accessible and conveniently located near renowned hotels, restaurants, and other popular attractions. Its prime location makes it an ideal destination for locals and tourists alike, offering a central hub for a night filled with excitement and entertainment.
Premier Nightlife Destination
Vendome Nightclub in Miami Beach is a premier destination for those seeking an extraordinary Miami nightlife experience. With its captivating ambiance, world-class music, exclusive events, and exceptional service, Vendome promises an unforgettable night out. Whether you're a local looking for a place to let loose or a visitor wanting to immerse yourself in Miami's vibrant nightlife scene, Vendome Nightclub is the ultimate destination for a night you won't soon forget. Plan your visit today and prepare to dance the night away at Vendome Nightclub!
https://www.vipsouthbeach.com/wp-content/uploads/2011/08/mansion.jpg
244
344
VIP South Beach
https://www.vipsouthbeach.com/wp-content/uploads/2020/02/logo-vip.jpg
VIP South Beach
2023-07-10 06:11:10
2023-08-16 16:15:11
Vendome Nightclub Miami Beach