Miami Bachelor Party Ideas
Miami Bachelor Party Ideas
We have Miami Bachelor Party ideas for your big night or weekend out with the guys that are absolutely the best way to send that soon-to-be-groom off in style! You want to have a bachelor party someplace with great weather and you want an amazing city that is super exciting and fun. A destination that doesn't just offer something you can't get in your hometown, but something so trendy and unbeatable that you won't find it ANYWHERE, period. To that end, South Beach, Miami isn't just a great place for a bachelor party – it's the BEST place for a bachelor party. One very important thing to remember about bachelor parties is at the end of the day you want to be sure its a weekend he never forgets! South Beach for a wide range of different reasons is that special place!
Our Miami nightclub bachelor party package is the hottest ticket in town for getting into the best clubs in South Beach! Our Bachelor Party Packages include:
Two Hour Pre Party Open Bar At A Hip South Beach Lounge
Stretch Limo Transfer From The Lounge To The Nightclub.
Hosted No Wait Nightclub Entry 
Nightclub Admission is Included In The Party Package Price.
The Party Package Price Is Normally $95.00 Per Guy Depending On The Club event.
We Work With The Best Nightclubs Including Liv Nightclub And Story Nightclub.
Contact VIP South Beach for nightclub bachelor party package reservations or Nightclub Bottle Service reservations. Fill Out Our Contact Form below or Ph: 305 804 5071 or [email protected]
Unforgettable Bachelor Party Ideas for an Epic Miami Experience
Planning a bachelor party in Miami? Look no further! Known for its vibrant nightlife, stunning beaches, and endless entertainment options, Miami is the ultimate destination for an unforgettable bachelor party experience. Whether you're seeking adrenaline-pumping activities, exciting nightlife, or relaxing beachside fun, this article will guide you through some of the best bachelor party ideas in Miami. So grab your buddies and get ready for an incredible time!
Beach Extravaganza:
Start the celebrations with a bang by organizing a beach extravaganza. Miami boasts some of the most beautiful beaches in the world, including the iconic South Beach. Rent a beachfront villa, set up beach games, enjoy watersports like jet skiing or paddleboarding, and soak up the sun with your friends. Don't forget to arrange for a beachside BBQ to savor some mouthwatering grilled delicacies.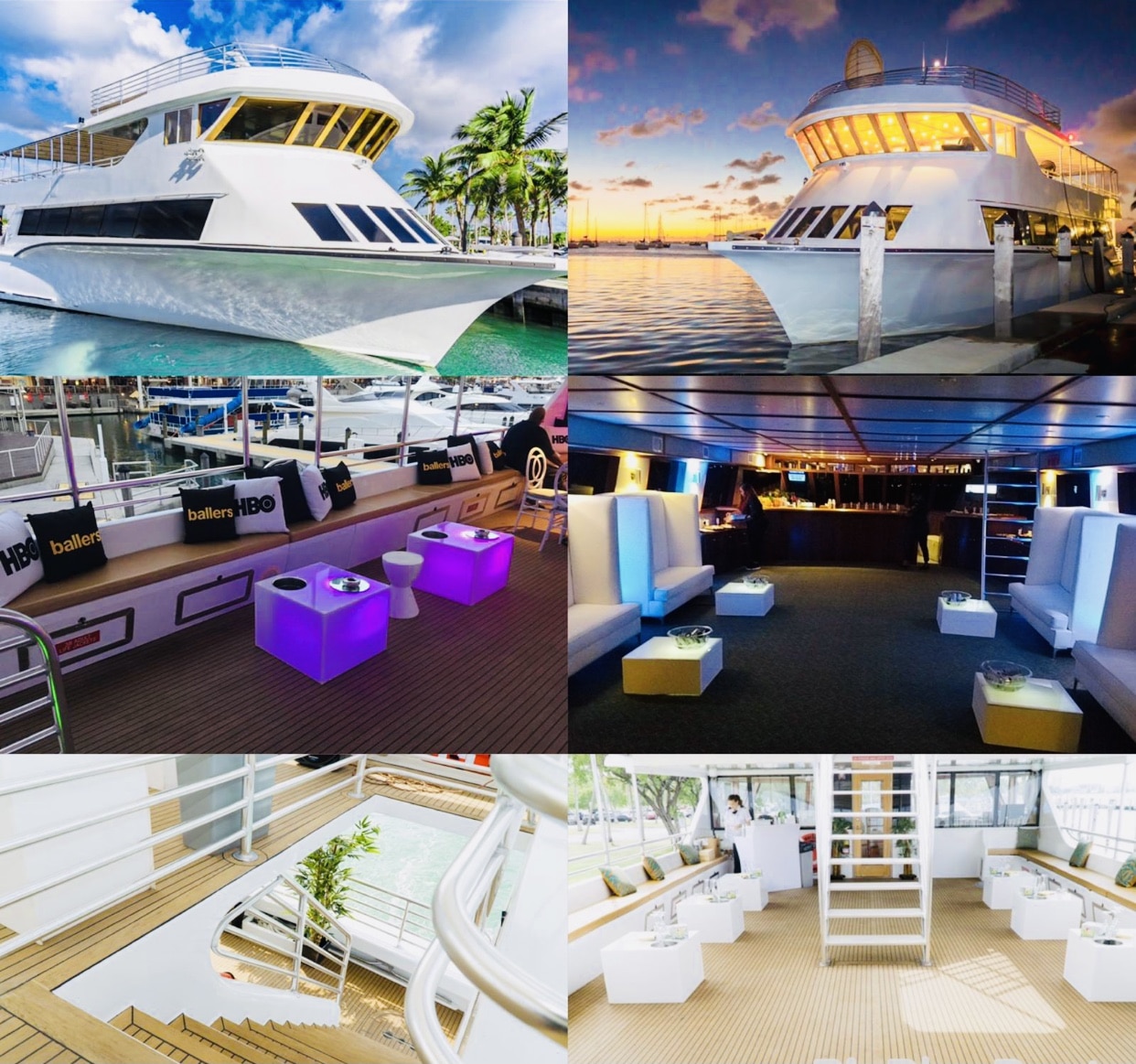 Yacht Party Package:
Take your bachelor party to the next level by doing the Yacht Party Package  and cruise for 3 hours along the stunning Miami bay, enjoy breathtaking views of the city's skyline. With an onboard open bar which includes Whisky, Vodka, Run and Tequila, live DJ, and professional crew, you and your friends can dance and enjoy this nightclub or a yacht with unforgettable memories on the open waters.
Contact VIP South Beach for Nightclub Bachelor Party Package, Yacht Party package Reservations or Nightclub Bottle Service reservations. Fill Out Our Contact Form below or Ph: 305 804 5071 or [email protected]
Thrilling Water Adventures:
For adventurous souls, Miami offers an array of thrilling water activities. Dive into the crystal-clear waters for snorkeling or scuba diving expeditions, where you'll witness the vibrant marine life and explore mesmerizing coral reefs. Alternatively, go deep-sea fishing and challenge your friends to reel in the catch of the day. These exhilarating experiences are sure to add an adrenaline rush to your bachelor party.
Nightlife Paradise:
Miami is renowned for its vibrant nightlife, and no bachelor party would be complete without experiencing it. Hit the famous nightclubs in South Beach or downtown Miami, where you can dance to the beats of renowned DJs, mingle with beautiful people, and enjoy signature cocktails. Be sure to check out the iconic Liv at the Fontainebleau or E11even Miami for an unforgettable party experience.
Cigar and Whiskey Tasting:
For a sophisticated and relaxed evening, organize a cigar and whiskey tasting event. Miami boasts numerous cigar lounges and whiskey bars, where you can sample a wide range of premium cigars and rare whiskeys. Sit back, relax, and indulge in the finer things in life while bonding with your friends over shared experiences and conversations.
Sports Spectacle:
If you're a sports enthusiast, catch a Miami Heat basketball game at the American Airlines Arena or a Miami Marlins baseball game at Marlins Park. Immerse yourselves in the electric atmosphere, cheer for your favorite team, and enjoy the competitive spirit of Miami's sports culture.
Golfing Getaway:
For a more laid-back bachelor party experience, hit the links at one of Miami's world-class golf courses. Enjoy a day of friendly competition while taking in the beautiful surroundings and perfecting your swing. Miami offers several stunning golf resorts and courses, such as Turnberry Isle Miami and Trump National Doral Miami, ensuring a memorable golfing experience for your group.
With its stunning beaches, exhilarating water adventures, vibrant nightlife, and luxury experiences, Miami offers an array of exciting bachelor party ideas. From beach extravaganzas and yacht parties to thrilling water activities and unforgettable nights at the clubs, Miami has it all. So gather
Night Life You Won't Forget:
Perhaps the number one reason why South Beach, Miami is such a great place for bachelor parties comes down to two beautiful words: "night life." South Beach is one of the most heavily visited areas in the whole city for that very reason, with some of the world's largest and most popular nightclubs all within walking distance from one another and all open as late as 4am most nights. Two hugely popular nightclubs in the area that you want to make sure to check out are Liv nightclub at the Fontainebleu Hotel and Story nightclub, both are top upscale South Beach dance clubs that you will not forget with the best DJs in the world.  Also be sure to stop by Icon, Hyde and if you like only Hip Hop clubs Dream and Cameo for the big night out with your best buds. If you decide you want you own VIP table at the nightclub the nightclub bottle service option is the way you want to go. The club will require you bottle a certain amount of bottles at the club and the nightclub bottle service option can get pricey depending on how many guys you have. Bottles start around $400 and up.
 Amazing Gentlemans Clubs:
If your bachelor is up for some local gentleman's clubs (and what gentleman isn't), you'll want to hit E11Even, Wonderland and Dean's Gold – all of which offer the same sleek and sophisticated experience yet putting their own spin on what it means to be a gentleman's club at the same time.
Live the Spring Break Experience:
If you and your bachelor party attendees really want to throw a party you won't soon forget, consider embracing one of the OTHER popular reasons why people visit South Beach – Spring Break. Ocean Drive is home to a number of restaurants that are frequented by the college crowd, including the dining spot that MTV made famous – Clevelander. News Cafe and Mango's should also be on your list, particularly as the nights continue to march on.
Film and Television Hot Spot:
Let's say you're looking for something a little more unique for a bachelor party and the person you're in South Beach to celebrate happens to be a film and television fan. If that's the case, you're in luck as you can easily tour filming locations from some of the most popular films and shows ever. "Miami Vice," perhaps the shining example of everything the 1980s had to offer, was filmed all over the city. This would make a perfect daytime activity for bachelor parties, too!
Adventures on the High Seas:
Whenever you pick a bachelor party destination, you always want to use the destination itself to your advantage. You can drink and eat anywhere – only in South Beach do you have access to factors like the gorgeous skylight and the nearby water to leverage into the type of experience you'll be thinking of for the rest of your days.
To that end, consider renting a yacht charter – an affordable and incredibly fun way to put your own unique stamp on the bachelor party experience. Whether you're just interested in a few drinks and a nice meal, a lot of drinks or you just want to take a tour around the harbor, South Beach certainly has you covered in this regard.
These are just a few of the key reasons why South Beach is the PERFECT place for your bachelor party getaway. Once you get a chance to experience all of the night life, the fine dining, the rich culture and the excitement that it has to offer, you'll wonder how people can choose to go anywhere else.
Contact VIP South Beach for Miami bachelor party package reservations or Nightclub Bottle Service reservations. Fillout Our Contact Form or Ph: 305 804 5071 or [email protected]
Contact US To Get Your VIP Service Reservation
https://www.vipsouthbeach.com/wp-content/uploads/2020/02/Bachelor-Party-Chicago-Birthday-Bottle-Service.jpg
573
838
VIP South Beach
https://www.vipsouthbeach.com/wp-content/uploads/2020/02/logo-vip.jpg
VIP South Beach
2023-06-30 02:16:28
2023-08-16 16:19:04
Miami Bachelor Party Ideas