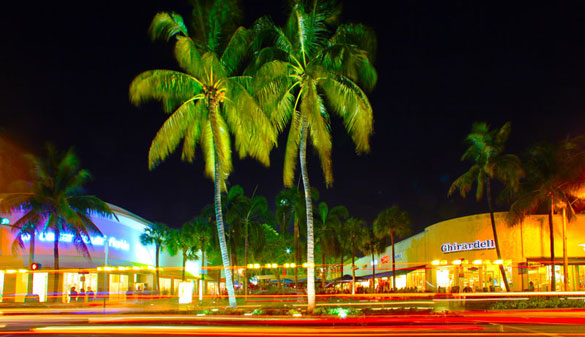 Lincoln Rd Mall Restaurants and Shops South Beach Miami
If you're searching for something to do in the luxurious surroundings of South Beach, Lincoln Rd Mall is a thriving road to shop, eat or have a drink. Day and night the Lincoln Road shops, restaurants bars and coffee shops are packed with people from all over the world and is the premier destination in South Beach. Knowing how to navigate this experience will help you locate the right foods and shops that will make you want to stay. Here's a list of places you don't want to miss.
Lincoln Road Mall
This mall is THE place to be! An outdoor shopping, dining and entertainment location, if you're searching for the hottest clothes and accessories from both national and international designers, you'll find them here. Patrons can visit stores like Victoria's Secret, check out the latest laptops and phones from the Apple store, get the latest fashions from Zara, H&M and Banana Republic. Need more? Grab some jeans from 7 for all Mankind, or stop by Starbucks or Nespresso for coffee. These are just a few choices at your fingertips. Grab your wallet and head on down. You'll be there all day – guaranteed!
You can't have a great shopping experience without great food to round out the day. There are a number of eateries that offer a relaxed environment that will have your tastebuds singing. One of the greatest pleasures about eating on Lincoln Road is the variety of food, no matter if it's breakfast, lunch or dinner. Here are a few choices:
Cafe @ Books & Books
Get ready to enjoy books, authors and patrons while you're eating at this cafe. It serves vegan selections, and is always on the pulse of what happens in South Beach. You'll find it at 927 Lincoln Road.
Spris Pizza
If you're looking for pizza that will make your mouth water, look no further than Spris Pizza. This is the place to come when you're looking for authentic Italian pizza. Located at 731 Lincoln Road, you may want to add this to your list of places to visit.
Sugar Factory America Brasserie
Located at 647 Lincoln Road, you'll find good food and great drinks. A hot spot for people to come and enjoy themselves, this is a great location to unwind.
Doraku
Enjoy the best of Lincoln Road at Doraku, where you can enjoy two happy hours every day! Lunch happy hour is from 12-3 Monday-Sunday, and dinner happy hour is from 5-7 everyday. The best thing about Doraku, you can order take out!
Bistro One at the Ritz-Carlton South Beach
Located at 1 Lincoln Road, you will be able to enjoy your food either indoors or al fresco. If you're looking for a great Sunday brunch, this is the place you don't want to miss.
Rosa Mexicana
Enjoy fine dining at 1111 Lincoln Road where you will be wooed with the "gold standard" in Mexican cuisine. Grab some friends and head on over to have a relaxing evening with great food.
Havana 1957 Cuban Cuisine
Celebrate the Cuban experience at Havana 1957 with real Cuban cuisine, delicious spices and an nice presentation. You can enjoy a full dinner or meet friends for drinks and appetizers. You can find it at 819 Lincoln Road.
Nexxt Café
Enjoy watching other visitors as you're eating your food at the Nexxt Café. Known for sidewalk eating, this restaurant has some of the best food in town. Compared to the Cheesecake Factory, you will find this place always crowded. Find it at 700 Lincoln Road.
https://www.vipsouthbeach.com/wp-content/uploads/2016/09/lincolnroad585.jpg
337
585
VIP South Beach
https://www.vipsouthbeach.com/wp-content/uploads/2020/02/logo-vip.jpg
VIP South Beach
2016-09-14 21:51:19
2020-03-03 19:47:04
Lincoln Rd Mall Restaurants and Shops South Beach Miami