Liv Nightclub Bottle Service Reservations

Welcome to Liv Nightclub Table Bottle Service
Are you ready to experience Liv nightclub bottle service reservations at the most luxurious exclusive club in the USA. Liv Miami nightclub offers you an amazing VIP experience, allowing you to enjoy the electrifying atmosphere, dance to the hottest beats, and indulge in a selection of high-quality spirits in the comfort of your own private table. In this detailed web page, we will explore everything you need to know about Liv Miami nightclub table bottle service.
What is Miami Nightclub Table Bottle Service?
Miami is renowned for its world-class nightlife scene, and table bottle service is the epitome of luxury within this realm. When you opt for table bottle service, you and your group will have your own designated area within the nightclub, complete with comfortable seating, ample space to dance, and a dedicated server to cater to your every need. Instead of waiting in long lines or struggling to find a spot on the dance floor, you'll have a reserved table waiting for you upon arrival.
Selection Of Premium Bottles
The highlight of table bottle service is the selection of premium bottles of alcohol that you can choose from. These bottles are typically high-end spirits such as vodka, tequila, whiskey, rum, and champagne. By purchasing a bottle, you not only gain access to your private table but also enjoy the convenience of having your drinks readily available throughout the night. It's a fantastic way to celebrate special occasions or simply elevate your night out in Miami.
Benefits of Liv Nightclub Table Bottle Service
1. **Exclusivity**:
By reserving a table, you step into a world of exclusivity and luxury. You'll have access to VIP areas that are off-limits to regular club-goers, providing a more intimate and upscale experience.
2. **Comfort and Space**:
Instead of jostling for space on the crowded dance floor or searching for a place to sit, table bottle service ensures you have a dedicated area with comfortable seating and ample space to move around freely.
3. **Personalized Service**:
With table bottle service, you'll have a dedicated server who will cater to your group's needs throughout the night. They will assist with bottle selections, mixers, and ensure that your glasses are always filled.
4. **Avoiding the Crowds**:
One of the biggest advantages of table bottle service is skipping the long lines and gaining express entry into the nightclub. You'll bypass the general admission queue and head straight to your reserved table.
5. **Status and Prestige**:
Table bottle service lends an air of status and prestige to your night out. It's a way to see and be seen, allowing you to be part of the elite crowd that frequents Miami's most exclusive nightclubs.
How to Book Liv Nightclub Table Bottle Service
Booking Miami nightclub table bottle service is a straightforward process. Here are the general steps to follow:
1. Check out the Liv Event:
For the night you want to go the the club and make sure its the music genre you prefer.
2. Contact VIP South Beach:
Reach out directly either through phone /text 305 804 5071, or info#vipsouthbeach.com to inquire about table bottle service availability and bottle minimum spends. Provide them with details such as the date, number of girls and guys in your group, and any specific preferences or special requests you may have.
3. **Select a Table Package**:
Most Miami nightclubs offer a variety of table packages based on the girl/guy ratio, size of your group and the location of the table within the club. These packages often come with different bottle options and pricing. Review the available options and choose the package that best suits your needs and budget.
4. **Make a Reservation**:
Once you've decided on the nightclub and table package, make a reservation by providing the necessary information requested by the club. This may include your name, contact details, group size, and any special requests or preferences.
5. **Confirm the Details**:
Before finalizing your reservation, double-check all the details with the club to ensure accuracy. Confirm the date, time, table location, bottle selections, and any additional services or add-ons you may have requested.
6. **Arrive and Enjoy**:
On the night of your reservation, arrive at the nightclub at the scheduled time and head to the VIP entrance or check-in area. Present your identification and let the staff know you have a table reservation. They will guide you to your designated table, where your dedicated server will be waiting to assist you throughout the night.

Tips for an Unforgettable Table Bottle Service Experience
To make the most of your Miami nightclub table bottle service experience, consider the following tips:
1. **Plan in Advance**:
Nightclubs in Miami can get extremely busy, especially during peak seasons or on weekends. To secure the best table and package, it's advisable to book your reservation well in advance.
2. **Dress to Impress**:
Miami has a reputation for its stylish and glamorous nightlife scene. Make sure to dress appropriately for the club's dress code, which is usually upscale and fashionable. Check the club's website or contact them directly to inquire about their specific dress requirements.
3. **Know the Minimum Spend**:
Many nightclubs require a minimum spend for table bottle service. This means you'll need to spend a certain amount on bottles or other services to secure your table. Be aware of the minimum spend and ensure it aligns with your budget.
4. **Explore Bottle Options**:
Nightclubs typically have an extensive selection of top-shelf spirits available for bottle service. Take the time to explore the options and ask your server for recommendations based on your preferences. They can guide you towards unique and high-quality choices.
5. **Enjoy the Atmosphere**:
While having a private table offers exclusivity, don't forget to immerse yourself in the overall atmosphere of the club. Take breaks from your table to dance, mingle with other guests, and fully experience the energy and excitement of the Miami nightlife.
6. **Tip Your Server**:
Exceptional service deserves recognition. Show appreciation to your dedicated server by tipping them accordingly. While the exact amount may vary, a standard guideline is to tip around 20% of the total bill.
Elevate Your Nightlife Experience
Miami nightclub table bottle service elevates your nightlife experience to new heights of luxury and exclusivity. It provides you with a private space, personalized service, and access to premium spirits, all while immersing yourself in the vibrant atmosphere of Miami's top nightclubs.
By following the steps outlined in this guide and keeping these tips in mind, you're sure to have an unforgettable night out in Miami. So, gather your friends, choose your favorite club, and get ready to dance the night away in style with Miami nightclub table bottle service. 
Contact VIP South Beach and we will make sure you have all the pricing details for the night you prefer.
We also offer Liv nightclub party packages with a two hour open bar pre party, limo/party bus transportation and express no wait entry. The all inclusive price includes the Liv club cover charge.
We Also Offer The Liv Nightclub Party Package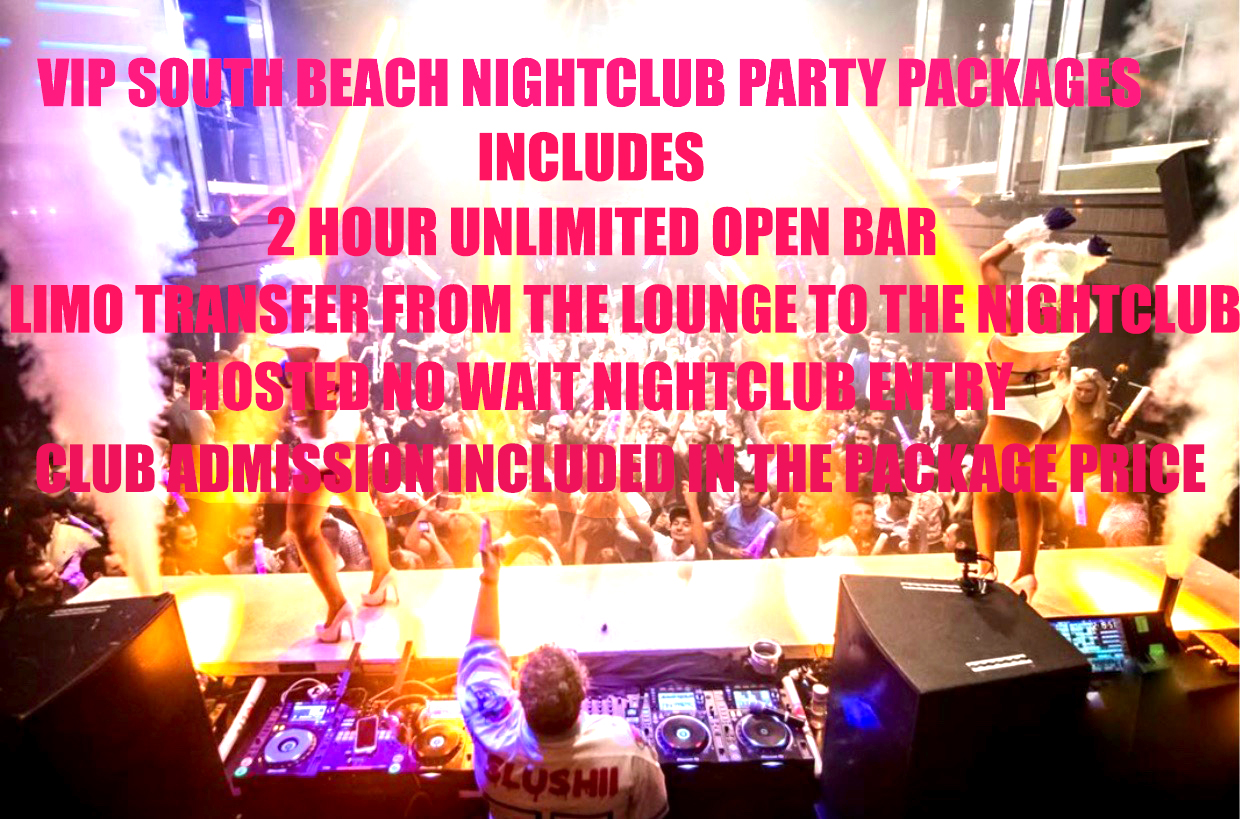 The Liv Nightclub Party Package,
If you decide not to get bottle service and you would just like to get into the nightclub without the hassle of waiting for the doormen to pick you out of the crowd we have another great option the nightclub package.
Liv party package you and your group will have express no wait club entry.
 Pre party open bar before you go to Liv at very cool South Beach lounge.
Open bar at the pre party lounge will last for two hours and include a limo/party bus transfer from the lounge to Liv nightclub.
All-inclusive ticket price includes all the open bar, party bus transfer from the lounge to Liv nightclub and the admission to Liv nightclub with hosted entry no wait entry.
Ticket pricing changes weekly depending on the night and the nightclub event. Girls start at $85.00 per girl and guys $100.00 per guy depending on the nightclub event.
Contact VIP South Beach today and let us know which Liv nightclub option you prefer and we will make all you nightclub reservations for your perfect vacation in the South Beach Miami nightlife. 
Liv Nightclub
Address: 4441 Collins Ave
Miami Beach Fl 33141
Check out our new Miami Boat Party Package
Please fill out our Contact Form below or Ph or Text: 305 804 5071 Email: [email protected]
Contact US For Your Bottle Service Or Nightclub Premium Party Package Reservations
https://www.vipsouthbeach.com/wp-content/uploads/2018/07/liv.jpg
600
900
VIP South Beach
https://www.vipsouthbeach.com/wp-content/uploads/2020/02/logo-vip.jpg
VIP South Beach
2023-07-13 04:41:19
2023-08-16 16:11:48
Liv Nightclub Bottle Service Reservations