Best Rooftop Lounges Miami
Unwind in Style: Discovering the Best Rooftop Lounges In Miami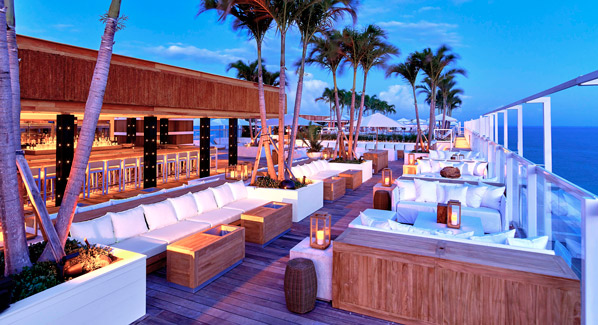 Best rooftop lounges Miami, elevate your experience in Miami by visiting the finest rooftop lounges with breathtaking views to exquisite cocktails, explore our curated list of the top rooftop destinations that will redefine your Miami nightlife. When it comes to experiencing the vibrant nightlife of Miami, nothing compares to sipping a refreshing cocktail while enjoying panoramic views of the cityscape from a rooftop bar lounge.
South Beach, located in Miami, boasts an array of trendy venues that offer the perfect blend of ambiance, drinks, and breathtaking vistas. In this article, we'll guide you through some of the best rooftop bar lounges in South Beach Miami, where you can elevate your evening to new heights.
1. Juvia Miami:
Situated atop a modern glass building, Juvia Miami is a renowned rooftop bar lounge that provides an astonishing 360-degree view of South Beach and the Atlantic Ocean. The venue's chic ambiance, complemented by its lush rooftop garden, creates an unforgettable setting. Enjoy innovative cocktails and a diverse menu inspired by French, Japanese, and Peruvian cuisine.
2. Sugar Miami:
Located on the 40th floor of the EAST, Miami hotel, Sugar Miami is a rooftop oasis that offers breathtaking views of the city skyline and Biscayne Bay. This Asian-inspired garden lounge features lush greenery, wooden furniture, and a tranquil atmosphere. Indulge in handcrafted cocktails that infuse local flavors with Asian influences while savoring delectable small plates.
3. Watr at the 1 Rooftop:
Perched atop the 1 Hotel South Beach, Watr boasts stunning ocean views and a chic, laid-back atmosphere. Relax in Japanese-inspired seating areas or immerse yourself in the infinity-edge pool while enjoying refreshing cocktails and a delectable menu that fuses Mediterranean and Japanese cuisine. This rooftop lounge truly epitomizes the essence of luxury and relaxation.
4. The Cape, a Thompson Hotel:
The Cape, located in the Thompson Hotel, offers a sophisticated rooftop experience that combines panoramic ocean views with a trendy ambiance. This Mexican-inspired venue features a stylish rooftop pool, comfortable loungers, and a vibrant bar. Sip on craft cocktails and savor elevated Mexican cuisine while taking in breathtaking sunsets over the Miami skyline.
5. Highbar at Dream South Beach:
Situated atop the Dream South Beach hotel, Highbar is a glamorous rooftop lounge that exudes a chic and playful vibe. The poolside setting, adorned with cabanas, palm trees, and stunning views, creates an enchanting atmosphere. Enjoy handcrafted cocktails and a menu featuring American classics with a modern twist while mingling with Miami's trendsetters.
6. The Perry Hotel Rooftop:
Nestled atop The Perry Hotel, this chic rooftop bar lounge offers breathtaking views of the Miami skyline and the Intracoastal Waterway. The stylish ambiance is complemented by a refreshing pool, comfortable seating, and a vibrant bar. Sip on craft cocktails crafted by skilled mixologists and indulge in delicious small plates while enjoying the lively atmosphere.
7. The WET Deck at W South Beach:
Perched on the W South Beach hotel, the WET Deck is a glamorous rooftop lounge that offers stunning ocean views and a lively atmosphere. Relax on plush loungers by the pool, sip on signature cocktails, and enjoy live DJ performances. Don't miss the vibrant sunset rituals that add a touch of magic to your evening.
8. C-Level Rooftop Terrace at Clevelander South Beach:
Located at the iconic Clevelander South Beach hotel, the C-Level Rooftop Terrace is a vibrant and energetic rooftop bar lounge. With panoramic views of Ocean Drive and the Atlantic Ocean, it offers a lively atmosphere with live music, DJ sets, and a diverse crowd. Enjoy handcrafted cocktails, frozen drinks, and a menu featuring classic American fare.
9. Rooftop at E11EVEN:
Situated atop the E11EVEN Miami nightclub, the Rooftop offers an upscale and energetic rooftop experience. Enjoy breathtaking views of the city skyline, lounge on plush seating, and savor crafted cocktails. The Rooftop frequently hosts live performances, DJ sets, and special events, making it a go-to destination for those seeking a vibrant nightlife scene.
10. The Gale Rooftop:
Located in the Gale South Beach hotel, the Gale Rooftop offers a cozy and intimate setting with stunning views of the city. This rooftop lounge features a retro-inspired design, comfortable seating, and a stylish bar. Sip on handcrafted cocktails, enjoy light bites, and soak in the enchanting ambiance that transports you to a bygone era.
Remember, each of these rooftop bar lounges has its own unique charm and atmosphere, ensuring a memorable experience for visitors seeking to enjoy the chic nightlife of South Beach Miami.
https://www.vipsouthbeach.com/wp-content/uploads/2023/08/519-Florida-South-Beach-1-Hotel-South-Beach-Rooftop-Bar-Lounge-2-3.jpg
325
598
VIP South Beach
https://www.vipsouthbeach.com/wp-content/uploads/2020/02/logo-vip.jpg
VIP South Beach
2023-08-01 06:38:23
2023-08-16 16:06:04
Best Rooftop Lounges Miami