We offer VIP services at all South Beach Miami nightclubs including Liv nightclub, Story nightclub, Icon nightclub, Club Rockwell, Mynt Lounge, Hyde Lounge and more.  The Miami nightlife is the place to be with A list night clubs that are famous for being very hard to get into with celebrity filled VIP bottle service rooms and world famous DJs playing all the right beats. South Beach has all kinds of night clubs from big multi level clubs to small intimate night clubs and lounges.The key to the South Beach nightlife scene is knowing which clubs have the best parties that are suited to your specific tastes for the nights of the week you will be in town. Each night of the week South Beach has hot A list celebrity night club parties that are the place to be for that night. The South Beach club world changes constantly what is hot this month may not be the hot spot next month. South Beach clubs rely on night club promoters to attract the hipster crowd and each night of the week the best promoters are throwing the A list party at one of South Beach best night clubs. For weekly Miami nightlife information check out South Beach nightlife events calender with club party information.
We are now offering the Pre Party Open Bar Hosted Entry Package for Liv, Story and Icon nightclubs. The package includes a 2 hour Open Bar at a cool lounge, limo transfer from the open bar to Liv or Story or Icon nightclubs with hosted no wait entry. Tickets are $50 for girls and $85 for guys and includes the nightclub admission. Contact us for more information on this amazing package.
VIP South Beach will make sure you are at that A list night club party suited to your tastes with no waiting Contact us or call 305 804 5071 today and let us create your custom nightlife itinerary to the best of the South Beach nightlife.
South Beach Night Clubs
Clubs are listed in alphabetical order
B.E.D 
Sexy nightclub trendy spot to lounge and dance including a multitude of mattresses and big luscious pillows. B.E.D which stands for Beverage Entertainment
Address: 929 Washington Ave.
Buck 15
Small underground bar and lounge located on the second with artistic furnishing and loft feel. Clubs artwork celebrates Miami Beach artists and has that South Beach Art Deco vibe.
Address: 707 Lincoln Rd.
Cameo
Renowned night club located at the historic Cameo Theater. Has been newly renovated with a big dance floor. Has a mezzanine VIP area and hosts live concert events.
Address: 1445 Washington Ave.
Club 01
Newly redesigned with seductive burgundy and a caramel colored ceiling. Huge leather chairs
Beautiful champagne bar with gemstone chandeliers. Intimate dance floor.
Address: 1 Ocean Drive
Dream
Two levels with 3 rooms 8,500 square feet themed in seductive french decor. Club has three rooms and a nice VIP area.
Address: 1532 Washington Ave.
FDR Lounge
Rock star Lenny Kravitz's designed this hip Jazz aged era style lounge. As you walk in passing a luxurious grand piano and beautiful chandeliers.
Address: 1685 Collins Ave.
Hyde Lounge
A list indoor outdoor very chic lounge with a beautiful moroccan style theme. Many bottle service areas inside and outside garden tables in a lush setting.  Many trendy bar areas and a very cool indoor dance floor.
Address: 1701 Collins Ave.
Icon Nightclub
This very trendy club high end mega club with opulent chandeliers and a plush interior design. Icon is two levels with high voltage dance floors with eight bars and is know for it exclusive VIP areas.
Address: 1235 Washington Ave.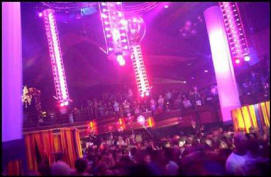 Klutch
Smac entertainments club with Vibrant colors 26,000 square foot scenic nightclub. Large dance floor with many VIP nooks.
Address: 135 Collins Ave.
Liv
LIV is the Fontainebleau Hotels new South Beach night club. One of South Beaches grandest nightclubs with a luxurious layout and pulsating sound and upscale hideaway.
Address: 4441 Collins Ave.
Mokia
Intimate cutting edge club with a hip fashionable decor with protracted bars.
Address: 235 23rd St.
Mynt
South Beach custom-designed ultra lounge with illuminating green lighting. Filled with VIP tables areas. DJs for around the world in this ultra modern hideaway.
Address: 1921 Collins Ave.
Nikki Beach Club
Hip San Tropez style indoor outdoor night club and beach club. Located in South Beaches Art Deco District. Complete with Indian tee pees, cabanas and hammocks.
Address: 1 Ocean Dr.
Opium Garden
Asian themed with multiple levels and a big Buddha at the entrance.
Address: 5729 Seminole Way Hollywood at The Hard Rock Hotel

Rockwell Nightclub
Hip upscale nightclub recently opened very cool crowd.
Address: 745 Washington Ave.
Sky Bar
Beautiful indoor outdoor pool lounge at the Shore Club Hotel. Like all Ian Schrager hot spots the decor is exceptional. With the beach breeze and specialty drinks.
Address: 1920 Collins Ave.
Set
Exclusive lounge with sensational style including a glass fire place and grand bar reminiscent of the swing era. Many VIP areas and a upstairs mezzanine with leather chairs and vibrant dance floor.
Address: 320 Lincoln Rd.
Story
One of South Beaches grandest nightclubs with an amazing sound system and lighting.
The club has many VIP bottle services areas and bars and is a true mega dance club. Story features world renown DJ events weekly.
Address: 134 Collins Ave.
Wall
Retro cool club at the new trendy W Hotel. With long black bar and many VIP areas. Large classic gold couch in the middle of the club.
Address: 2201 Collins Ave.
VIP South Beach will make sure you are at that A list night club party suited to your tastes with no waiting Contact us or call 305 804 5071 today and let us create your custom nightlife itinerary to the best of the South Beach nightlife.
For Reservations and Information Call: 305 804 5071 or e-mail: info@vipsouthbeach.com